---
---
YOUR ULTIMATE RUG GUIDE - EVERYTHING YOU NEED TO KNOW
No matter which room in your home needs a refresh, a rug is a fantastic way to define and spruce up any space, bringing colour, pattern, texture and personality to the area. A rug can bring a sense of softness to a room with hard floors but can also look fantastic over carpets, creating depth especially in larger spaces.
James Lane rugs are a quick, easy, impactful way to give any room an update without breaking the bank.
---
---
SIZE & SHAPE
When it comes to rug size, large rugs work beautifully to anchor furniture and help define your space, while small rugs used as floating rugs are a clever and convenient way to liven up your room.
Don't forget to measure your room and furniture placement before buying to make sure you select the correct rug length and width for your room. Also consider which shape will suit your home best and measure accordingly: Round rugs are measured by their diameter, which is the length of the rug from end to end through the centre, while for rectangular rugs you'll need to know the length and width measurements.
ROOM & PLACEMENT
Rugs help to define a space and add personality – so placement is completely up to you! To accent a room, living room rugs should have at least 30cm of floor space between the walls and the edge of the rug for classic styling. One popular living room layout is to place the front two legs of each sofa or chair on the rug, with your coffee table forming the centrepiece of the room. Of course, if the room is big enough, you might like to choose a rug that can accommodate all four legs of your furniture – the choice is yours! Generally speaking, the larger a rug, the larger the room will look.
When it comes to dining room rugs, the rules are a little different. Here, you want something big enough that all four chair legs will sit on the rug, even when the chairs are pulled out from the dining table. Leaving 30cm of room between the back of the chairs and the edge of the rug should give you all the room you need. (Don't forget to accommodate for tables that extend.)
In the bedroom, rugs provide a sense of comfort, giving you something cosy to step onto as you climb in and out of bed. Bedroom rugs can be any size or shape you like – you may choose something big enough to comfortably fit the legs of both your bed and bedside tables all on the rug, or go for a 'half-and-half' look, placing a smaller rug lengthways around one third of the way down the bed, so only the end feet rest on it.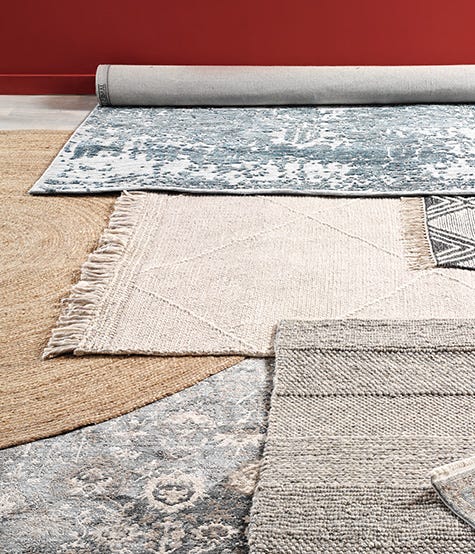 ---
---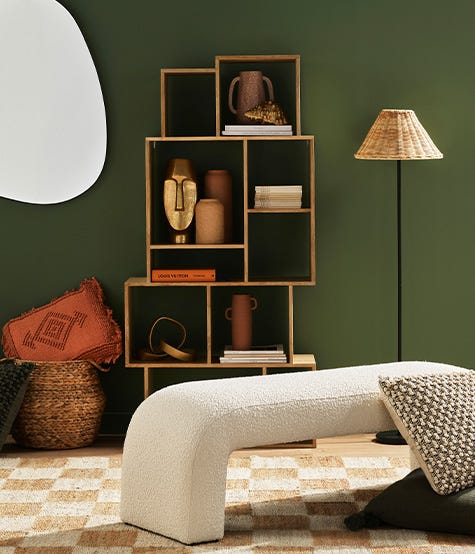 DESIGN & MATERIAL
From wool to jute, manmade fibres and even leather hides, rugs not only come in different shapes and sizes, but also a wide range of materials. Not surprisingly, when choosing a rug, this will play a big part in your decision.
Natural
Wool feels warm and soft underfoot, and has some fire-retardant properties – but, as it's the best yarn for rug making, a wool rug can be expensive. Also keep in mind, wool rugs may shed, and some people are allergic to wool. A cotton rug is an economical option if you prefer natural fibres. It's hypoallergenic and soft, although it doesn't have pile strength of other materials. As such, it's often used to make flatweave rugs. Jute, once dried and processed, is also popular for flatweave rugs. A jute rug can bring a chic coastal vibe into a space and is a sturdy and statement-making option suited to high-traffic areas. Thinking of decorating with leather hides? Rugs made of leather are all completely unique, which is part of their charm.
Manmade
Viscose is very similar to cotton in its structure, but is a manmade material created from regenerated wool cellulose. When making a viscose rug, it's often combined with wool or other fibres to increase elasticity, softness and shine. Looking for something to withstand family life? A heat-set polypropylene rug or a frise rug might just fit the bill. Hypoallergenic, stain-resistant and incredibly easy to clean, heat-set polypropylene is soft, durable colourfast, non-shedding and moth proof. Frise is a type of heat-set polypropylene, so it has all the same properties, but has also undergone a treatment to give it more lustre and a higher twist.
Design
When it comes to rug design, the sky really is the limit! While colour is important, don't forget about texture. Selecting a solid-colour rug that closely matches the tone of your floor can have a calming effect and gives a space subtle definition, while a vibrant contrasting rug can really liven up a room – but can also make the space seem smaller. If you love to play with texture, why not try layering a couple of contrasting rugs? Placing a smaller wool accent rug over a larger natural fibre rug makes an eye-catching statement.
---
---
CARE & UPKEEP
Whichever style, design and material rug you choose, there are a few easy steps you can take to keep it in tip-top condition.
Use a rug underlay. These are usually made of a very thin material and lay between the floor and your rug to help keep it in place. As well as preventing any slipping, a rug underlay provides a little extra cushioning and acts as a buffer to stop your rug's fibres being crushed when it's walked on. It's also easier to vacuum both your rug and the floor underneath it.
Rotate your rugs. Either switch them from room to room, so that no one piece remains in the same high-traffic area all the time, or change the orientation so any wear is spread evenly.
Spot clean. Rugs can be cleaned easily if small stains or marks appear, but be sure to avoid harsh chemicals and always check the care label first. Tend to spills and marks while they're still wet to help them lift more easily – first by blotting with a damp cloth first then, if that doesn't work, using only gentle soap or detergent (as long as the rug is colour-fast). Kids get gum on the rug? No worries! Harden the gum with ice then scrape it off with a butter knife.
Vacuum rugs carefully. Too much suction can unravel woven rugs, or pull hand-knotted or twisted loops and fibres loose from the rug's surface, creating what are known as 'sprouts'. (If you do end up with sprouts, don't stress – simply trim them down with sharp scissors so they don't unravel next time you vacuum). For best results, use a canister instead of a beater bar, or use your vacuum's handheld attachments. And don't forget to vacuum the underside of your rugs, too.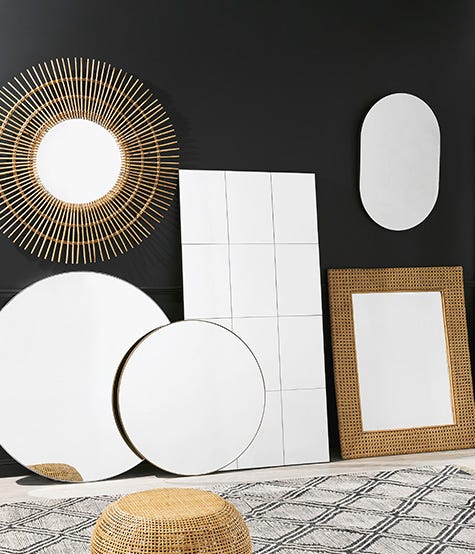 ---
---
---